It has been a few months since we updated the status of the Buffalo Repeater at 147.180 MHz. You may remember that a little over a year ago we began asking for donations to help pay the expenses to relocate the repeater from its present home atop a water tower which is slated for demolition. With thanks to the many generous hams who pitched in, $5,000 was raised in a little more than 6 months. This funding was needed to replace the existing equipment including the coax hardline and the antenna as well as to pay for a professional tower climber.

As we continued to wait for word from the city as to when the new water tower would be built, a very exciting new door was opened earlier this year. We are thrilled to announce that television station KRBK Fox 5 has graciously opened their doors to Southwest Missouri Regional Skywarn by offering us tower space atop their 475-foot-tall transmission tower in northeastern Polk County near the unincorporated community of Polk, Missouri!
What does this mean, and how will this affect repeater coverage?
A true measurement of the usability of any antenna site is something known as Height Above Average Terrain (H.A.A.T). H.A.A.T. is an industry standard measurement when it comes to determining coverage of VHF and UHF signals. We touched on this briefly last February when discussing the new Macomb, Missouri repeater at 146.745 MHz. which will be linked in soon.
Height Above Average Terrain is calculated by determining the exact height above sea level at ground level of a tower site compared with the height above sea level of surrounding terrain extending away from the antenna site in all directions. You then add the height above ground of the antenna into the mix, and you get your H.A.A.T. Antenna sites located at the bottom of a valley can sometimes have a negative Height Above Average Terrain value. Sites located atop precipitous mountaintops can have a H.A.A.T. value of several thousand feet. The higher the H.A.A.T, the further a VHF or UHF signal's ground wave will travel.
The Height Above Average Terrain of the current Buffalo repeater's antenna atop the condemned water tower is 190 feet. With our new home atop the KRBK-DT Polk, Missouri tower, our new H.A.A.T. will be 371 feet! This will essentially double our Height Above Average Terrain and help us to fill coverage gaps toward the northern and northwestern portions of the Springfield, Missouri County Warning Area.
When will the repeater move to this new site?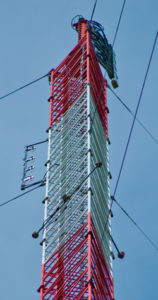 Ground has already been broken on this project, but a lot of work is still needed. Early last June our brand new antenna (pictured to the left side-mounted onto the KRBK television tower in Polk, MO) and coaxial hardline were installed by a professional tower climber. Due to space limitations inside KRBK's transmitter building, we are required to construct our own small building in which to house the repeater equipment. Unfortunately, when we calculated the budget for this project last year, we did not know that we would need to build a small building for our equipment. That is because the opportunity to operate from the KRBK tower did not exist at the time.
Thanks to the folks at Meek's in Springfield, MO we were able to purchase the lumber needed for this structure at cost. We also thank the folks at Rite-Way Concrete Products in Springfield, MO for donating the concrete footings needed. However, despite these generous donations by these companies, we are still over budget.
While we are working on constructing this small building to house the repeater at the new site, we do not have an exact timeline as to when we can get it completed.
To help defray the unanticipated costs of having to construct our own repeater shack, we are turning to you, the amateur radio community, for help. We are hoping to raise an additional $1,000 to help close this gap in our budget. You can donate online via PayPal by clicking here. Or you can make a check or money order payable to: 49 Repeater Group.
Then mail it to:
49 Repeater Group
P.O. Box 246
Willard, MO 65781-0246
We thank everyone who has contributed in the past, and we thank all of you in advance who are able to help us pay for this new and exciting opportunity to take the Buffalo Repeater at 147.180 MHz. to an exciting new level. This will bring Skywarn coverage into new areas and improve coverage in existing areas that the current repeater serves.
Thank you for your support!