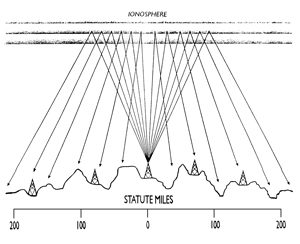 A recent test of the ability of several healthcare facilities throughout our County Warning Area to communicate via HF is being considered a huge success. Under the leadership of Polk County, Missouri A.R.E.S. Emergency Coordinator Joye, N0OCP, the purpose of this test was to break new ground in an effort to test whether direct communications from facility to facility is possible without using repeaters. Every three months, a net is held across the Southwest Missouri Regional Skywarn linked repeaters to make sure the emergency radios at these healthcare buildings work and can communicate. While reliance on a linked repeater system makes communications over several hundred square miles possible on VHF, the question that seemed to loom was: "What happens if the repeaters are off the air?" Despite mediocre conditions across the HF bands lately, the use of Near Vertical Incidence Skywave (or N.V.I.S.) on 80 meters proves to be a very reliable way to communicate regionally with relative ease.
A total of 17 healthcare facilities participated in the March 16th drill. In a couple of cases where noise on HF was a debilitating factor, contact was made at nearby home stations which were easily within VHF simplex range to the facility in question.
"We moved our communications tests far ahead of what [we] had ever accomplished," Joye N0OCP says in a follow-up report.
Looking forward, the use of digital communications on HF is also being considered for additional flexibility in getting messages through when voice conditions are limited or near impossible according to Joye. In the meantime, the quarterly tests across the Southwest Missouri Regional Skywarn linked repeaters will continue as planned. Stations not located at a healthcare facility control point are asked to stand by during these test nets which usually occur on a designated Thursday morning in January, April, July and October.