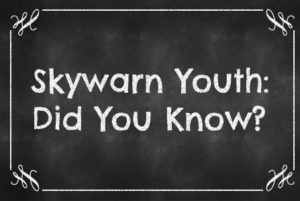 "New Weather Satellite Series"
by Caleb, KE0FOE
Did you know that the first in a new series of advanced weather satellites is expected to be launched this week bringing improvements to the accuracy of weather forecasts as far as 7 days in advance?
This Joint Polar Satellite System satellite will be the first in a series of four highly sophisticated polar orbiting satellites which will circle the Earth 14 times a day with instruments so precise that they can measure temperatures to better than one tenth of a degree in the entire atmosphere from the Earth's surface all the way up to the edge of space. You might think of it as a real-time weather balloon that can measure temperatures throughout various levels of the atmosphere in real time and across the whole continent and even over the ocean!
These advanced satellites will serve as the backbone of NOAA's weather forecasting system for the next 20 years.  This new satellite will be named NOAA 20 once it's in orbit. It is scheduled to launch this Friday, November 10th from Vandenberg Air Force Base in California.
For more information about this topic, please check out this article by WeatherNation TV and this article by the National Oceanic and Atmospheric Administration.